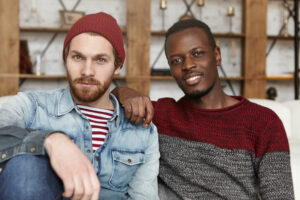 Our relationships with family, friends, co-workers, and society at large are what connect us and give our lives fullness and meaning. When relationships break down, or when other problems overwhelm our ability to be in relationships with others, we need help.
Counseling may be related to any of the following:
Couples/Relationships
End of Relationships
LGBTQ Issues
Sexual Intimacy
Codependency
Codependency is a way of being in relationship that is characterized by unhealthy boundaries, indirect or ineffective communication patterns, and a focus on other people at the expense of our own happiness or well-being. While these patterns are common in families where one or more family members suffer from an addiction, they can exist in families without chemical dependency as well. These patterns can persist through generations without intervention. However, they are learned, and therefore can be unlearned and changed with therapy. Learn more about codependency.
Couples/Relationships
Relationships are our connection to the world around us. Our closest relationships are usually those involving family; our family from birth and the family we create through joining with others and bringing new life into the world. These relationships can be our most rewarding of all. However, when there is a breakdown in these relationships they can be the most painful of all. Counseling can help repair and rebuild these important relationships.
End of Relationships
Whether a relationship ends by mutual agreement to sever ties, by divorce, or with the death of a loved one, it is never easy to say goodbye. Very often relationships end with heartbreak, confusion, and anger and can leave us doubting ourselves. Counseling can help you recover, learn, heal, and move on.
LGBTQ Issues
Lesbian, Gay, Bisexual and Transgender individuals and couples often face unique challenges that require understanding and awareness of issues surrounding diversity in our society. It is difficult to feel "different" in our society, and for the LGBTQ population "different" has often included discrimination, fear of being openly oneself, and denial of rights. Counseling must be sensitive to the impact of these societal influences, and should support and affirm individuals and couples in living authentically.
Marriage Counseling
Marriages are the source of great joy and comfort in our lives, but can also be a source of pain, isolation, and conflict. All marriages experience stress from external sources from time to time, but when these stresses and our own differences in communication or decision making styles begin to cause problems, marriage counseling can help you learn to overcome these issues and build strength and intimacy with your spouse. Learn more about marriage counseling. 
Sexual Intimacy
Sexual intimacy is an expression of our connection and love with our significant other, and is often one of the first places a couple's relationship shows strain. Sexual intimacy can be impacted by our past relationships, childhood trauma or abuse, or even stress in our daily lives. With therapy, these issues can be healed and sexual intimacy enriched.