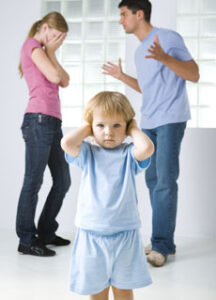 In December, we explored the issue of Intimate Partner Violence (IPV), also called domestic violence. IPV is abuse exerted by a current or former partner/spouse. It includes various forms of violence such as, psychological, verbal, financial, physical, and/or sexual. It can also present as stalking. IPV not only harms the direct victim (the object of the violence) but also affects the children residing in the home.
According to the data available on the National Coalition Against Domestic Violence's (NCADV) website, one in 15 children in the U.S. witnessed IPV in 2010. One in three children who were exposed to IPV were themselves victims of abuse.
"Based on these data, it is clear that IPV extends outward to impact the children in its vicinity," said Shely Basnet, LCSW, LAC, with The Therapist Group at Maria Droste Counseling Center.
But how exactly are children impacted?  The human brain matures and fully develops around age 25. Children, whose brains are still changing rapidly, are highly susceptible to disruption in brain development that can continue to impact them throughout their lifetime. For example, they may be stuck in a fight-flight-freeze survival state, their ability to learn may be compromised, and they may develop memory deficits.
The NCADV reports a number of additional impacts of IPV on children. Children exposed to IPV:
are three times more likely than their peers to engage in violent behaviors.
learn that it is okay to solve problems by disrespecting and abusing others – specifically women.
may develop self-doubt, self-blame, guilt, shame, fear about the future, or a low tolerance to frustration or change.
may begin to act out; others withdraw.
may develop anxiety and/or depression, as well as various trauma/PTSD symptoms.
may exhibit regressive behaviors, such as thumb-sucking, bed-wetting, or increased crying or whining.
may experience somatic pain, such as headaches or stomach aches. They may also develop difficulty with sleep and/or appetite.
may struggle at school and with schoolwork, skip school, have difficulty concentrating, or engage in various risky behaviors.
may have difficulty forming relationships or friendships.
may feel the unfair burden of protecting one or more individuals in the family, or be forced to take on a parenting
may be enlisted to harass and intimidate the abused parent/caregiver.
As these children become adults, they are at a higher risk of developing physical, psychological, and substance misuse issues. They are at a greater risk of repeating the cycle of violence by entering abusive relationships or becoming abusive. They may struggle with creating relationships and asserting healthy boundaries.
In many instances, the impact of IPV can be felt even before children are born. It can look like the abusive partner controlling the use of family planning or contraception, and using physical violence or the threat of violence during pregnancy. In fact, abuse may escalate during pregnancy, as the abusive partner may feel threatened or perceive the pregnant individual's attention to themselves and their fetus as resulting in their own needs not being met.
So, is there any hope? "Yes!" Shely said. "With proper support and understanding, children can develop a capacity for resilience." Resilience can be defined as the ability to adapt well in difficult situations, to recover quickly and to be able to bounce back, as well as experience personal growth. All children, but especially children who have witnessed and experienced any form of violence or abuse, need opportunities to build resilience.
How to support children exposed to IPV:
Connect them to safe and emotionally healthy adults.
Link them to safe and supportive spaces outside the house.
Support play, playfulness, and opportunities for fun.
Build routines into their day.
Provide space to voice their concerns and fears.
Help them recognize and label their feelings, and teach them healthy coping skills around difficult or big feelings.
Practice and educate them on healthy boundaries.
Teach them that violence against other human beings is wrong, and teach them non-violent conflict resolution skills.
Get them professional help and support.
"All children deserve a safe and loving home, and a life free of violence and abuse," Shely said.
Denver area resources for victims and survivors of IPV
Maria Droste Counseling Center (303) 867-4600: Trauma and mental health therapy for adults, children and families.
SafeHouse Denver (303) 318-9909: 24/7 hotline, safety planning, information about IPV, shelter.
Project Safeguard (303) 219-7049: Protective (restraining) orders.
Colorado Legal Services (303) 837-1313: Legal support and advocacy.
Family Tree (303) 420-6752: 24/7 domestic violence hotline, shelter, legal advocacy, supervised parenting.
Servicios De la Raza (303) 458-5851: Therapy and safety planning in Spanish and English.
The Blue Bench (303) 329-9922: Therapy and support around sexual violence.
Motherwise Colorado (720) 504-4624: Various forms of supportive programs for pregnant individuals and mothers with newborns.
Denver Children's Advocacy Center (303) 825-3850: Support for children (and their family) who have experienced abuse and other forms of trauma.
Rose Andom Center (roseandomcenter.org): Houses several legal and therapeutic programs within the building.
Colorado Crisis Center:1-844-493-8255 or text TALK to 38255
The National Domestic Violence Hotline: 1-800-799-7233 or chat at thehotline.org
A final note: Couples counseling is contraindicated for individuals experiencing IPV. Separate therapy and counseling services for victims/survivors and individuals exerting abuse are initially recommended.
Need help?
Connect with a therapist at Maria Droste Counseling Center to discuss IPV or any other issues at Maria Droste Access Center, 303-867-4600.